"ECODAN" – Economic, eco conscious next generation heating system
Both energy-saving and safe for the environment, the Mitsubishi Electric ECODAN incorporates a highly efficient heat pump system that captures "the heat in the air", a renewable energy resource. Equipped with advanced inverter control, meticulous temperature control assures comfortable heating, and its space-saving "All-in-one" indoor unit is easy to install. These energy-saving, high comfort and simple installation characteristics have drawn the ECODAN heating system into the spotlight center stage.
Easy to install and low maintenance
All-in-one: Key functional components are incorporated
Compact cylinder unit: Just 1600mm in height
Compact hydro box: Only 600×600mm footprint
Easy installation: Factory fitted pressure relief valve
Easy service: Relevant parts are located at the front of the unit for easy maintenance
Easy transport: Handles attached on front and back (cylinder unit)
Our 8–10HP ECODAN heat pumps, only available with a hydro box connection, are suitable for large houses and small businesses where a high heating load is necessary. Our latest generation of 8–10HP Power Inverter outdoor units can now reach 60°C maximum flow temperature instead of 53°C previously. The new 8–10HP hydro box is available in both heating only and reversible and can be connected to a customized capacity domestic hot water tank.
Save energy in domestic hot water operations
Thanks to an external plate heat exchanger, ECODAN offers much higher domestic hot water efficiency. Compared to our previous model, domestic hot water recharge efficiency is improved by approximately 17%*1, thereby reducing operating costs.
Lighter weight
Compared to our previous model, the cylinder unit is up to 15kg lighter compared to EHST20C-VM2B. This is thanks to the coil incorporated in the tank which has been removed and replaced by a much lighter plate heat exchanger.
Intelligent boiler interlock
The flexibility of ECODAN's intelligent control allows the system to be combined with the boiler currently in use. Additionally, this control can judge which heating source to use either ECODAN or the existing boiler, based on various conditions. In the event of one heating unit not working due to some unforeseen problem, the other heating system can be used as a back-up, thereby preventing the heating system operation from stopping completely.

Smart user-friendly controller with stylish design 
Large screen and backlight for excellent visibility, even in dark environment
Multi-language support (supports 15 languages)
Can be removed from main unit and installed in a remote location (up to 500m)
Quick reading of operation data (7.5 times faster than previous model)
Wide range of convenient functions in response to user demand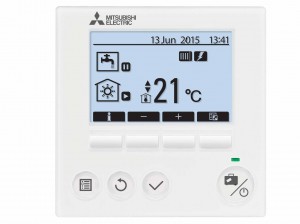 Function settings
Energy monitoring
Two-zone control (cooling and heating)
Two separate schedules
Summer time setting
Built-in room temperature sensors
Hybrid control (boiler interlock)
Floor drying mode
Weekly timer
Holiday mode
Legionella prevention
Error codes