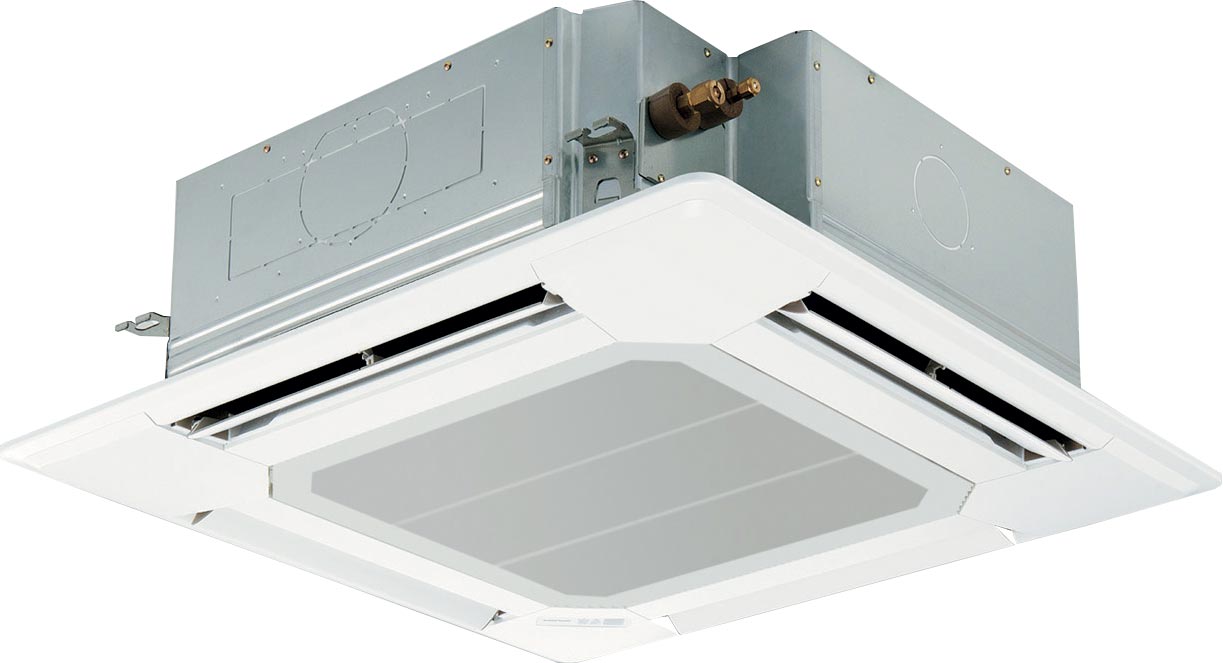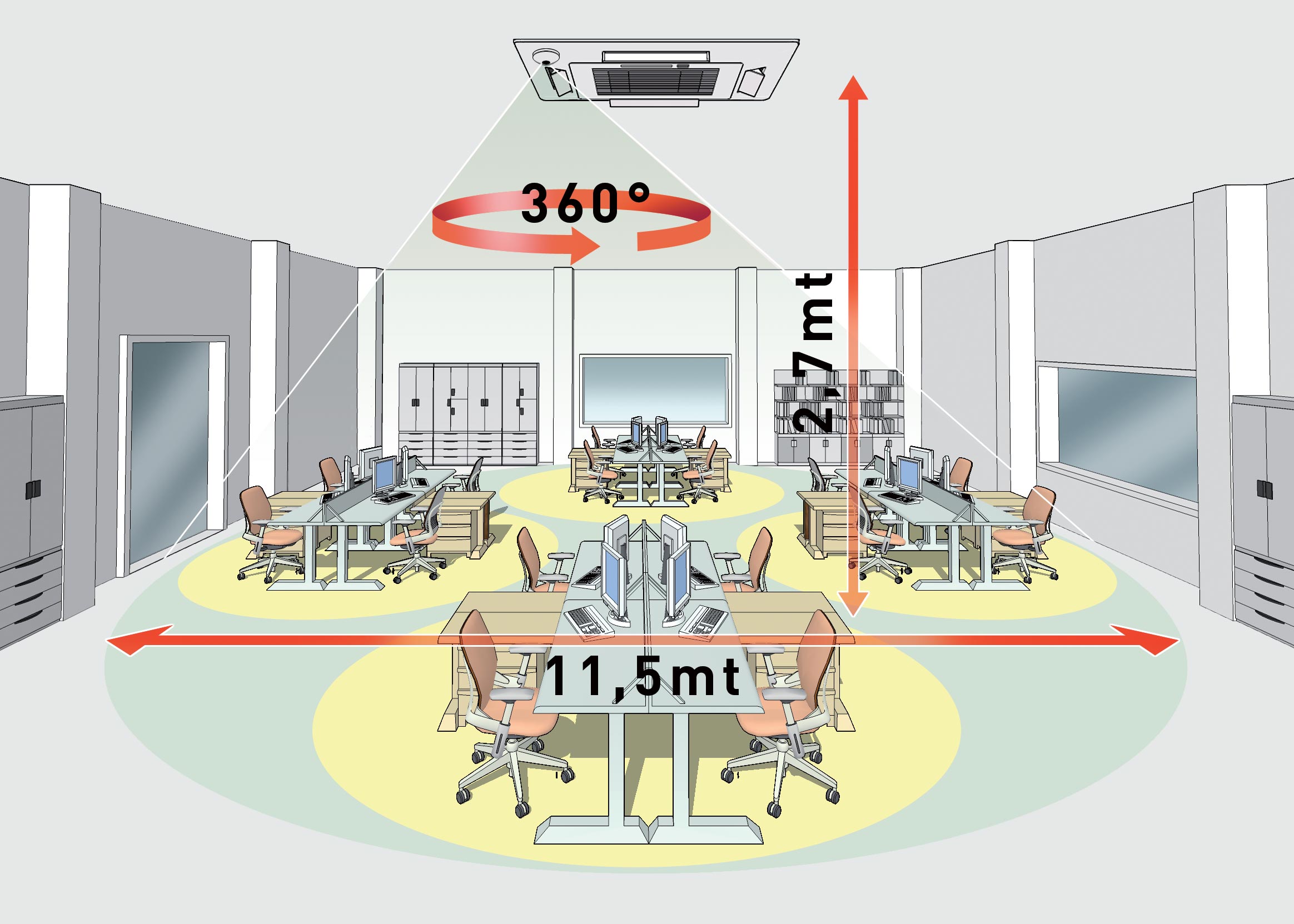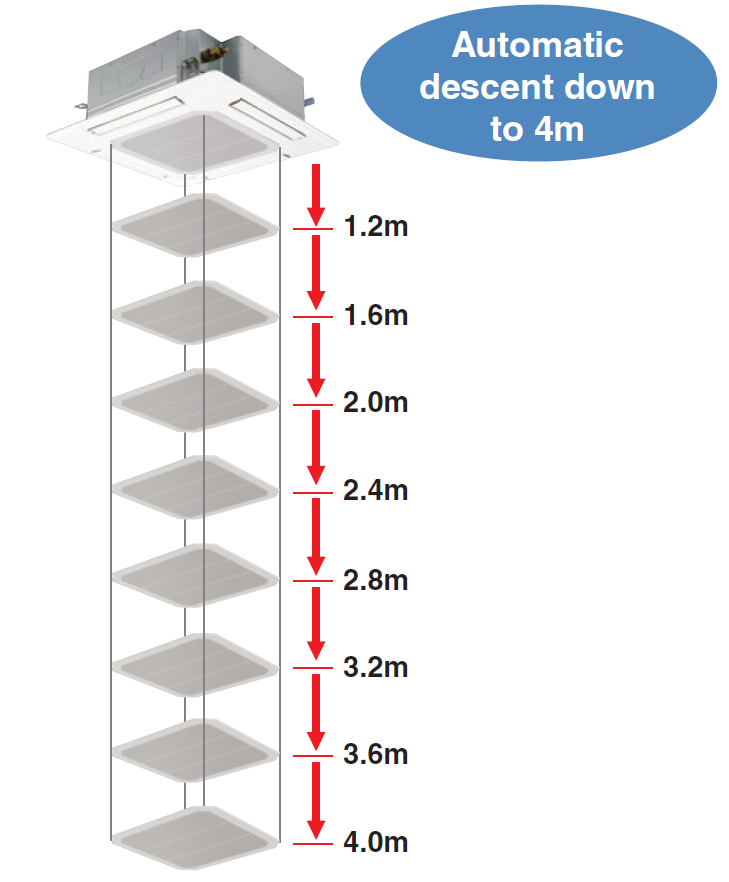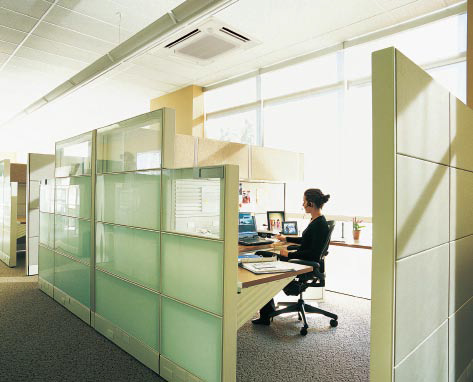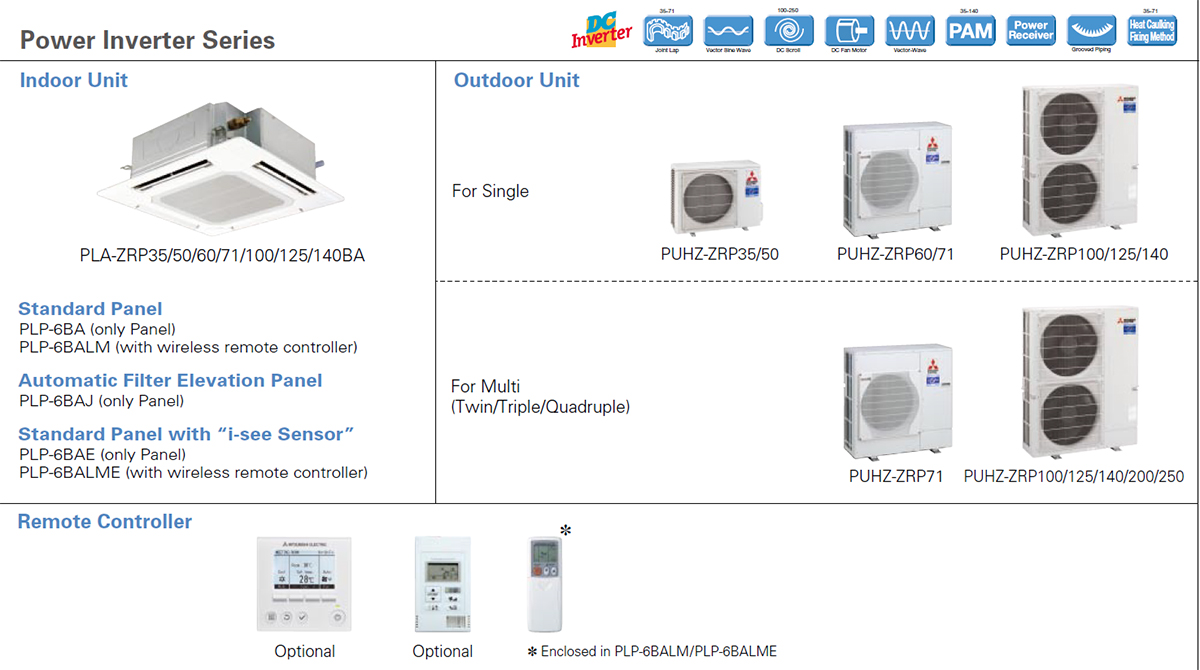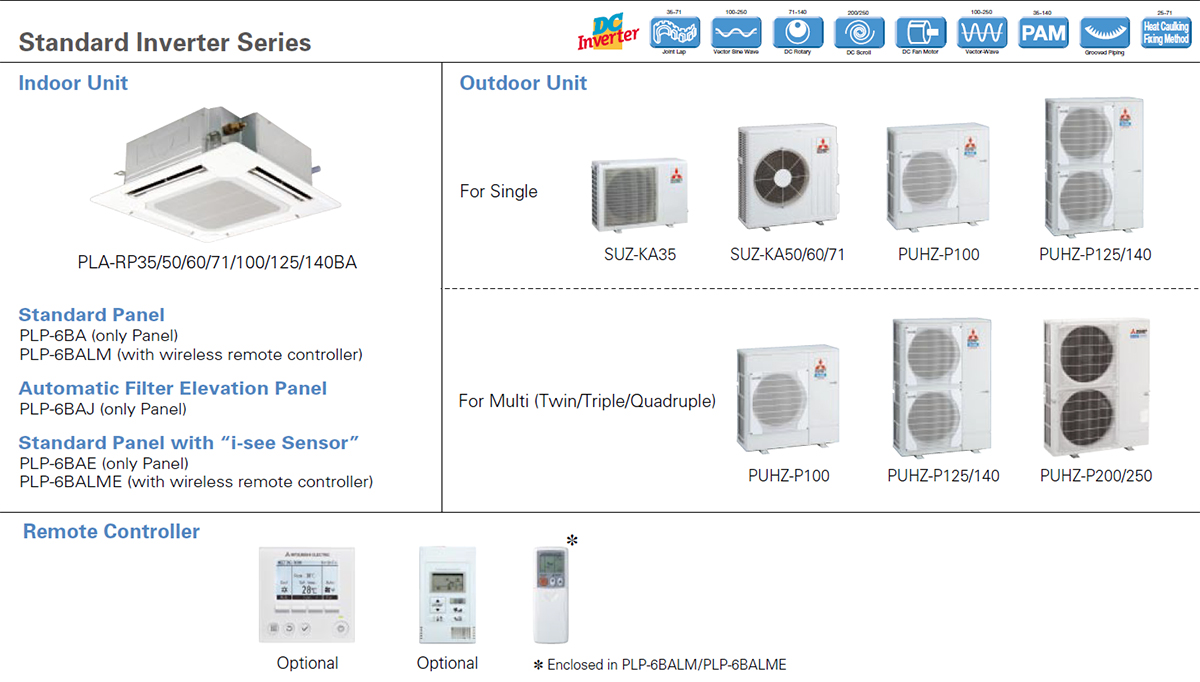 A complete line-up including deluxe units that offer added energy savings. The incorporation of wide air-outlet and the "i-see Sensor" enhances airflow distribution control, achieving an enhanced level of comfort throughout the room. The synergy of higher energy efficiency and more comfortable room environment results in the utmost user satisfaction.
Deluxe 4-way Cassette Line-up
For users seeking even further energy-savings, Mitsubishi Electric offers complete deluxe units (PLA-ZRP) for the complete line-up of models in this series from 35–140. Compared to the standard models (PLA-RP), deluxe models provide additional energy-savings, contributing to a significant reduction in electricity costs.
"Rank A++/A+" Energy Savings Achieved for Deluxe 4-way Cassette
Our new deluxe 4-way cassette indoor units combined with newly designed Power Inverter outdoor units (PUHZ-ZRP) achieve industry-leading seasonal efficiency for both cooling and heating: all rank A++ for cooling and A+ or higher for heating.
Automatic Grille Lowering Function (PLP-6BAJ)
An automatic grille lowering function is available for easy filter maintenance. Special wired and wireless remote controllers can be used to lower the grille for maintenance.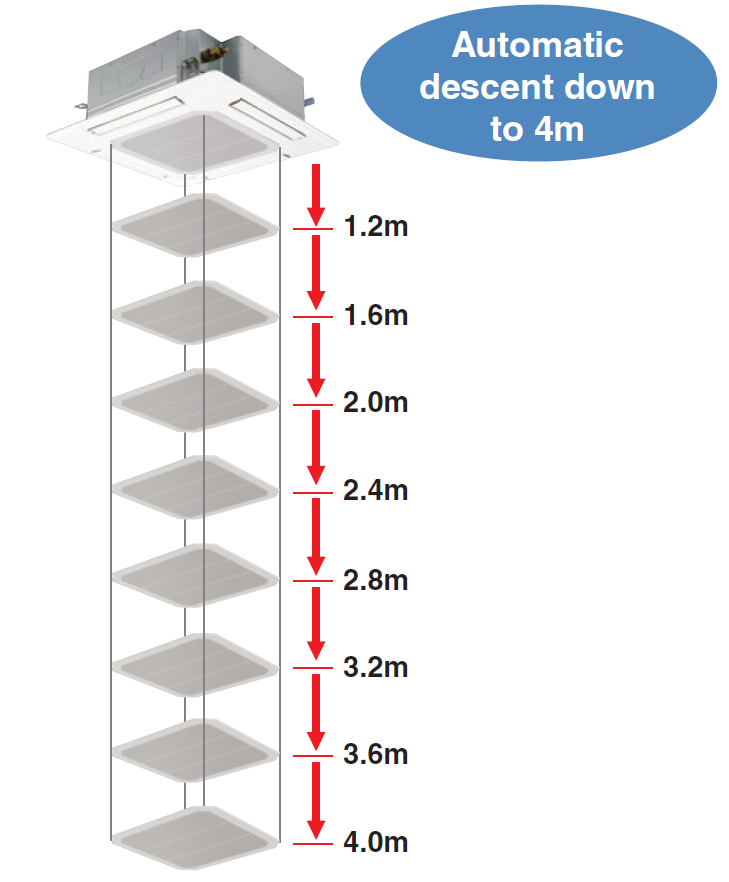 Optimum Airflow
Individual Vane Settings Optimum airflow settings provide maximum comfort throughout the room.
Wide Airflow
Wide-angle outlets distribute airflow to all corners of the room.
Wave Airflow – Thoroughly warming all corners of the room
"Wave Airflow" is essentially the advanced control of the vanes directing the airflow from the unit. Blown-air is repeated dispersed from the unit in horizontal and downward directions at time-lagged intervals to provide uniform heating throughout the room.

Equipped with High- and Low-ceiling Modes
Units are equipped with high- and low-ceiling operation modes that make it possible to switch the airflow volume to match room height. The ability to choose the optimum airflow volume makes it possible to optimize the breezy sensation felt throughout the room.
Horizontal Airflow
A "Horizontal Airflow" function has been added to reduce drafty-feeling distribution. Horizontal Airflow prevents cold drafts from striking the body directly, thereby keeping the body from becoming over-chilled.
Automatic Air-speed Adjustment
An automatic air-speed mode that adjusts airflow speed automatically is adopted to maintain comfortable room conditions at all times. This setting automatically adjusts the air-speed to conditions that match the room environment.
At the start of heating/cooling operation, the airflow is set to high-speed to quickly heat/cool the room.
When the room temperature reaches the desired setting, the airflow speed is decreased automatically for stable comfortable heating/cooling operation.
" I Sensor " temperature-sensing technology improves energy efficiency and enhances room comfort
The "i-see Sensor" is an innovative Mitsubishi Electric technology that uses a radiation-based sensor to monitor temperature throughout an entire room. When connected to the air conditioner control panel, i-see Sensor works to maximize room comfort.