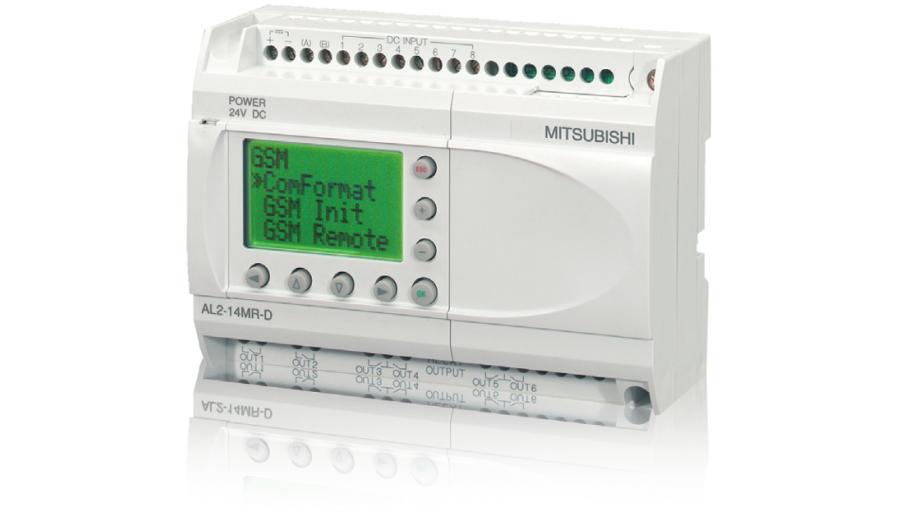 AHC – Advanced HVAC Controller
Solution consists of an ALPHA2 PLC and an M-Net interface, both by Mitsubishi Electric.
Intuitive object-based graphic programming function.
Create control strategies using either physical signals (inputs and outputs) or logical signals (via M-Net data transmission bus).
Receive signals from 2 Groups for a total of up to 32 indoor units for each PLC.
Programme synchronised energy saving strategies between power consuming utilities (such as lighting) and the air conditioning system.
15 inputs and 9 outputs.
Number of physical inputs and outputs may be increased with dedicated expansion modules.
Large backlit LCD display for programming functions and viewing graphics, text and values.
Direct programming with 8 function keys on front control panel without using auxiliary devices.
Superior installation flexibility with integrated DIN rail adapter.
System may be password-protected.
Possibilità di proteggere il sistema mediante password.
Total integration
The AHC programmable controller uses Mitsubishi Electric know-how acquired in industrial automation applications to integrate air conditioning, heating and domestic hot water production systems with third party systems, such as access control, security, lighting control systems etc., allowing communication between the systems via the M-Net data communication bus.
This makes it possible, for example, to use data acquired via the M-Net communication bus to control external devices instead of interlocking the operation of air conditioner units and external systems connected to the AHC Programmable Controller, or using other similar measures.
Flexible programming...
Up to 200 function blocks can be used in a single application (Set/Reset, Timer, Service messages etc.), offering extraordinary scope for controlling the entire installation.
... and safe data!
The application is stored permanently in an EEPROM memory module.
This means that active data (such as meter counts) are backed up without requiring power.
Extensive operating temperature range
Designed to operate in a temperature range from 25°C to 55°C and with an IP20 protection rating, these devices are ideal for both indoor and outdoor installation.
Digital and analogue expansion modules
Dedicated expansion modules offer the possibility of increasing the number of both analogue and digital inputs and outputs.
Digital
AL2-4EX:
offers 4 digital
AL2-4EYT:
offers 4 digital outputs
Analogue
AL2-2PT-ADP:
inputs offers 2 analogue inputs
AL2-2DA:
offers 2 analogue outputs