Both energy-saving and safe for the environment, the Mitsubishi Electric ecodan incorporates a highly efficient heat pump system that captures "the heat in the air", a renewable energy resource. Equipped with advanced inverter control, meticulous temperature control assures comfortable heating, and its space-saving "All-in-one" indoor unit is easy to install. These energysaving, high comfort and simple installation characteristics have drawn the ecodan heating system into the spotlight centre stage2 zone control (for heating/cooling)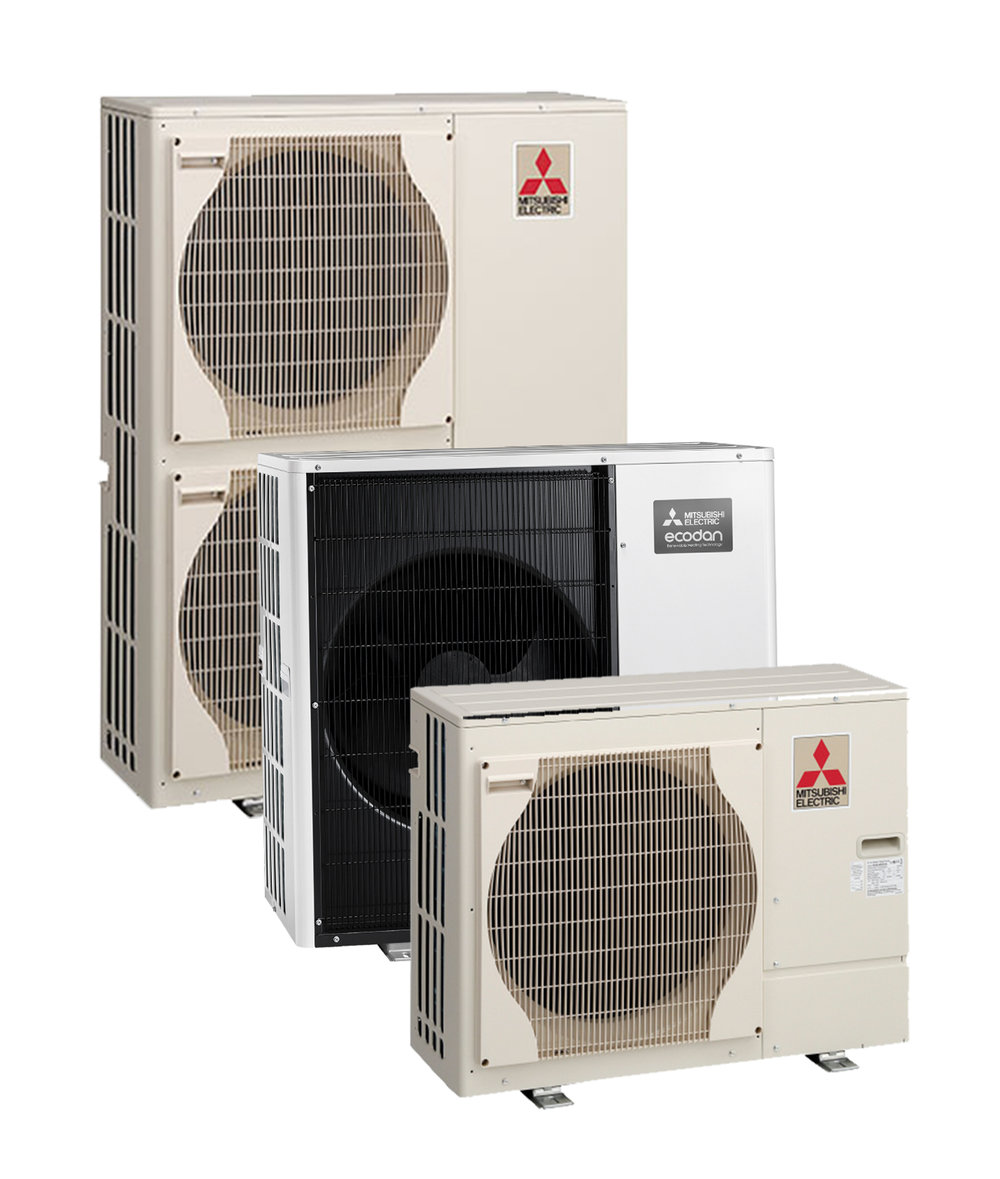 New eco-design directive
What is the ErP Directive?
The Ecodesign Directive for Energy-related Products (ErP Directive) established a framework to set mandatory standards for ErPs sold in the European Union (EU). The ErP Directive introduces new energy efficiency ratings across various product categories. It affects how products such as
computers, vacuum cleaners, boilers and even windows are classified in terms of environmental performance. Labelling regulations that apply to
our ATW heat pumps came into effect from September 26, 2015.
Improved Heating Performance
Mitsubishi Electric's unique "Flash Injection" circuit achieves remarkably high heating performance. This technology has resulted in an excellent
heating capacity rating in outdoor temperatures as low as -15°C, and the guaranteed heating operation range of the heating mode has been extended
to -28°C. Accordingly, the heat-pump units of the ZUBADAN Series are perfect for warming homes in the coldest regions.
The stylish design and compact size harmonises residential application
Simple and elegant design by rounding left and right corners of the unit.
Concealing the fan by matching the panel and the grille in dark colour.
Unified shape and safety by setting the fan whole backwards and matching
the grille on the same level of the front panel.
New compressor
Compact
High performance
2 zone control (for heating/cooling)
Simultaneously control two different zones
Using ecodan, it is possible to control two different flow temperatures, thereby managing two different heating load requirements. The system can
adjust and maintain two flow temperatures when different temperatures are required for different rooms; for example, controlling a flow
temperature of 40°C for the bedroom radiators and another flow temperature of 30°C for the living room floor heating.
Another feature of this model is that 2 zone cooling control is now possible. Using these functions it is easy to maintain the most comfortable
temperature in each room and to save energy too.