The new series of MSZ-BT are elegant, compact and economic.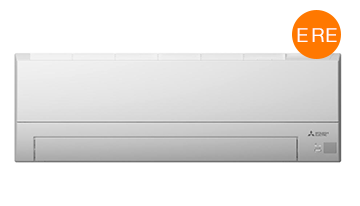 Capacity in kW

High energy efficiency for the entire series range
All models in the series, from the low-capacity 20 to the high-capacity 50, have achieved the "Rank A++" for SEER and size 25 and 35 have achieved "Rank A++" for SCOP as energy-saving rating. For home use, such as in bedroom and living rooms, to light commerce use, such as in offices, our air conditioners are contributing to reduced energy consumption in a wide range.
Quiet Operation
The indoor uni noise level is as low as 19dB  for BT series, offering a peaceful inside environment.
Built-in WiFi Interface
The indoor unit is equipped with a Wi-Fi Interface inside an exclusive pocket in the unit.
This eliminates the need to install a WiFi interface, and also contributes to the beautiful appearance since the interface is hidden.