New design of 4-way cassette VEM model suits most commercial applications thanks to its elegance and syle. Its peculiar features are horizontal flow function, individually settable vanes and possibility to install 3D i-see sensor for top environment comfort contro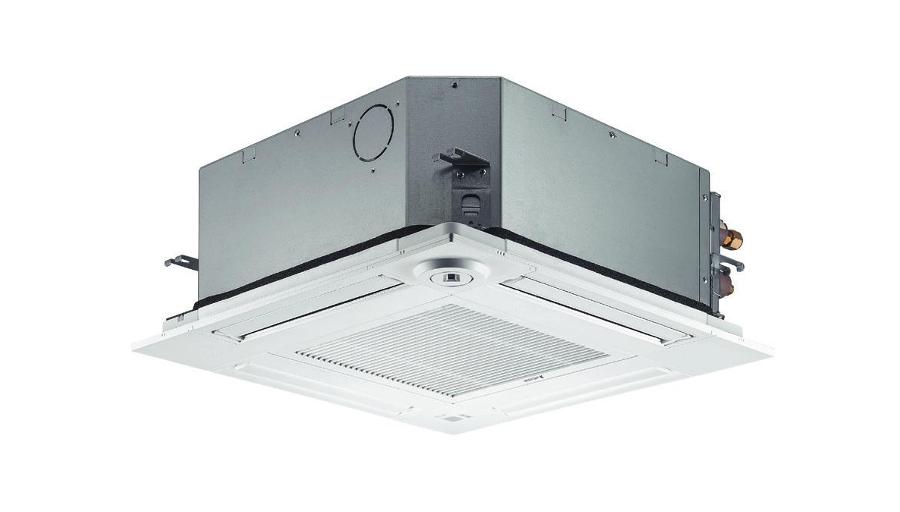 3D i-see sensor: Temperature sensor
3D i-see sensor is able to detect temperature distribution inside the room, making it possible to direct airflow to those areas which generally receive less air, making them more uncomfortable (too cold or too hot) for users.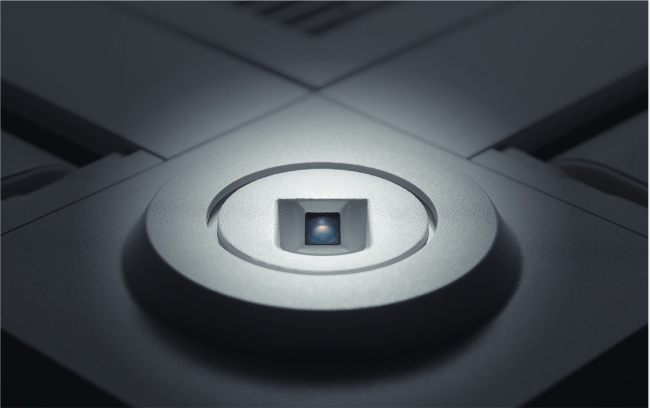 Horizontal flow
This new indoor unit is capable of handling five vane positions, making it possible to achieve horizontal flow that spreads across the ceiling, maximizing the Coanda effect.
This allows to avoid, if needed, direct airflow to users in the room, which can sometimes be uncomfortable.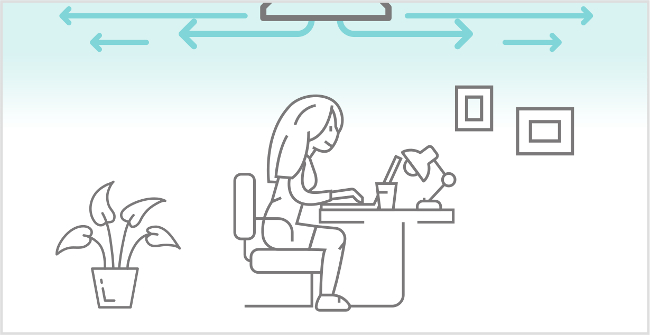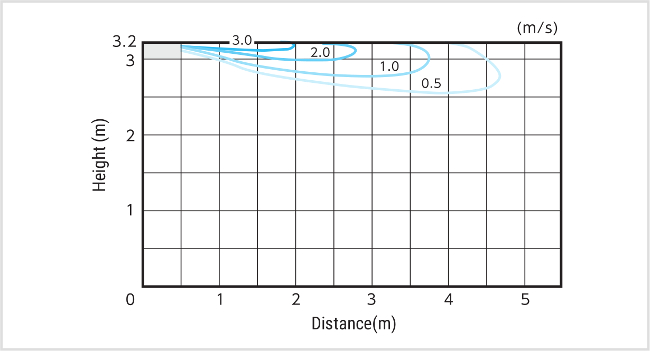 3D i-see sensor: Direct/Indirect flow function
Optional 3D i-see sensor allows to detect and count users in the environment and their position.
User can set either Direct or Indirect flow to occupied areas, with single control on four vanes.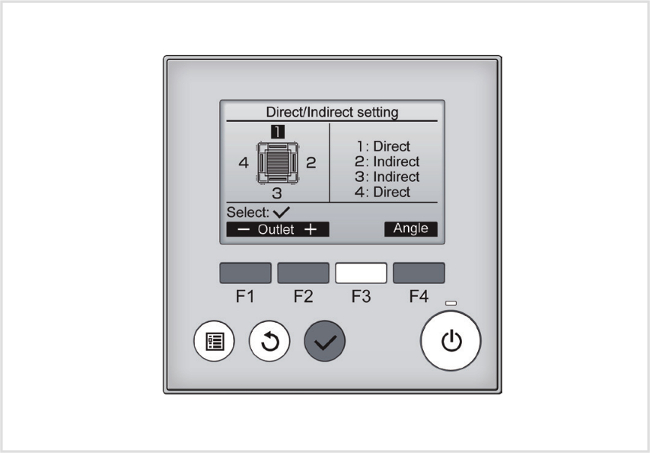 3D i-see sensor: Energy saving
3D i-see sensor features allow to optimize comfort conditions and at the same time achieve energy saving.
Thanks to the occupancy sensor the unit is able to automatically handle and reduce power output accordingly to users actually being present in the room or in certain areas of it.
This feature is particularly helpful in those environments in which occupancy varies significantly during the day.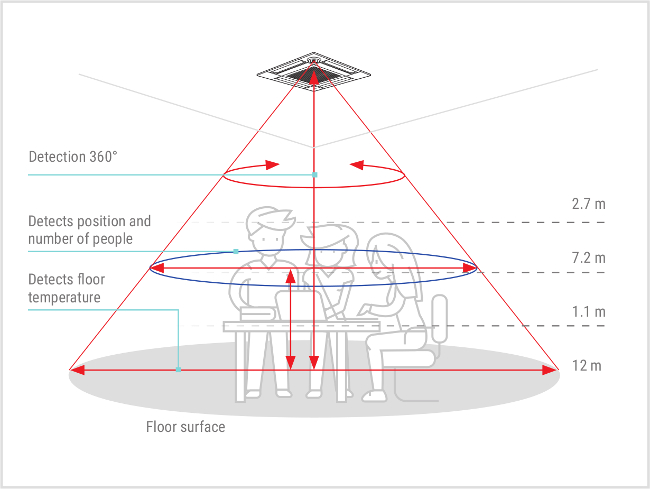 Panel and control
The unit is supplied with PLP-6EA panel which does not include signal receiver.
This component (PAR-SE9FA-E) can be installed as a corner accessory, as well as 3D i-See Sensor (PAC-SE1ME-E).
The unit is compatible with all wired MA and ME remote controls and, if equipped with signal receiver, wireless remote controls.
New PAR-SL100 A-E is compatible with PLFY-P VEM, and presents numerous new features, such as weekly timer, backlit display, 0,5°C temperature setting and monitoring, as well as functions for 3D i-see sensor.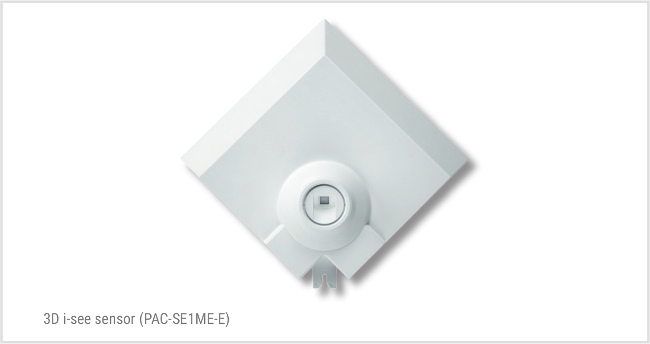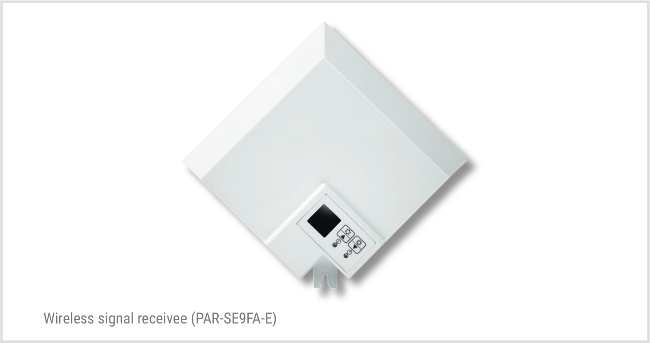 Simplified installation
Thanks to new temporary panel supports maintenance and installation operation are now easier for field technicians.

Also, panel weight has been reduced by 20% thanks to a new design.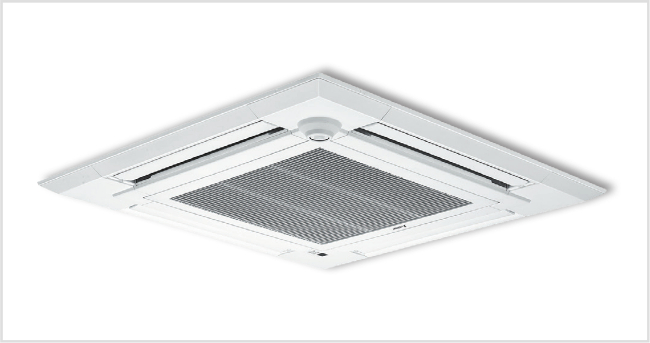 A simple loosening of support screws allows the removal of the control box and corner accessories.