REMOTE MONITORING INTERFACE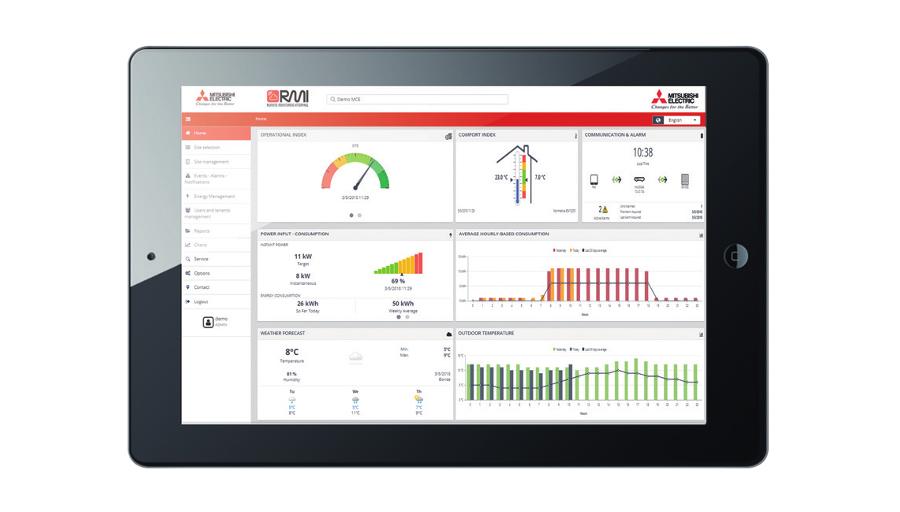 The Cloud system by Mitsubishi Electric for large installations
The RMI system lets you control your air conditioning, heating and domestic hot water production system remotely from a smartphone, tablet or PC.
The system may be used to monitor the performance of your appliances, programme functions, check consumption and view operating states to optimise the efficiency of the system.
Your perfect climate in an App!
Control your air conditioner, adjust temperature and air flow settings, view and manage hot and cold water production status and check for system faults.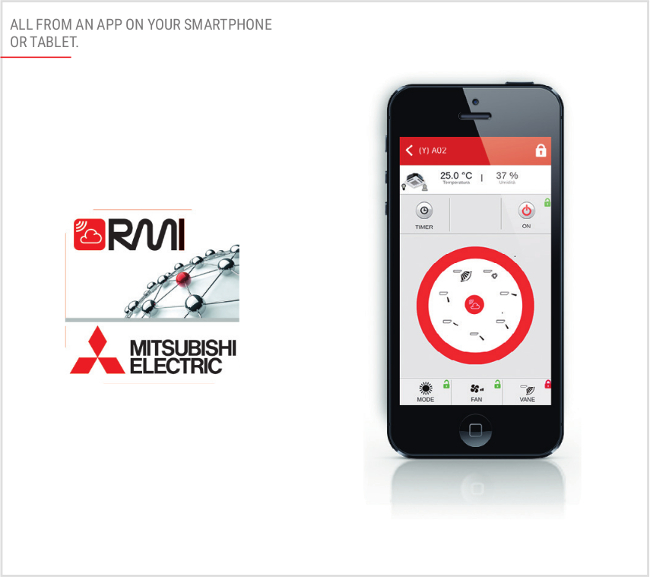 Simplified control for all of your systems
Set weekly programmes and special events, and view and analyse the operating parameters of your system remotely from a mobile device with a graphic interface that lets you change settings instantaneously when needed.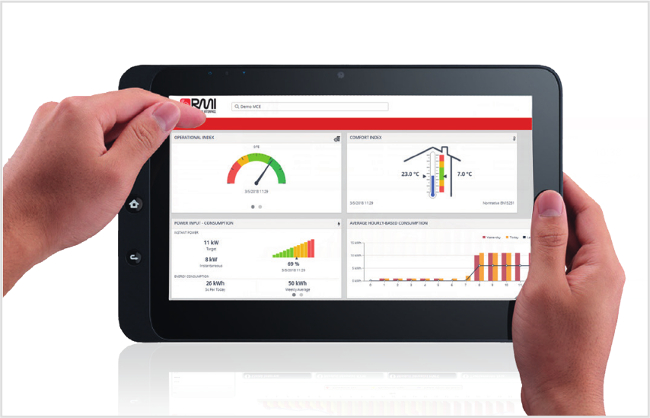 Manage your systems with detailed information and analytical functions
Manage multiple installations with different sizes and architectures conveniently from the application on your PC, view function parameters in a summarised dashboard interface, and analyse specifically created reports to make your installation work even more efficiently.
RMI is also the ideal solution for the centralized management and supervision of multiple installations in different locations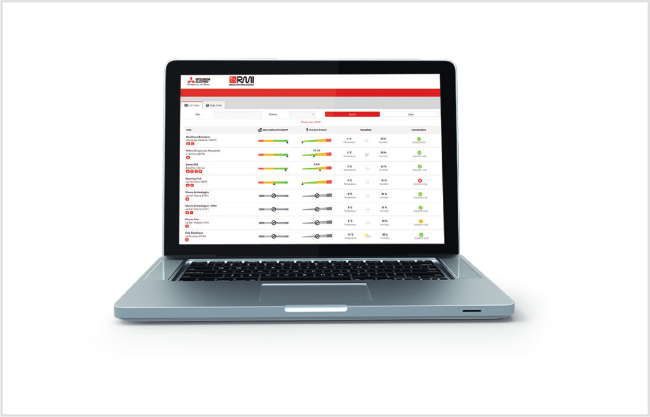 System architecture
The 3D TOUCH Controller WEB Server centralized controller performs the crucial role of acquiring and monitoring data via the M-Net data transmission bus linking all the components of the VRF CITY MULTI, Mr. Slim or Residential system.
A router (available as wired ADSL or 3G Mobile versions) creates a secure, protected communication channel with the RMI Server.
The modular flexibility of the RMI Server makes it possible to store enormous volumes of data, which is acquired, processed and archived for access from portable devices.
This infrastructural complexity, combined with superior processing, management and security capabilities, is encapsulated in an extremely user friendly concept, to help users optimise the energy usage of their systems.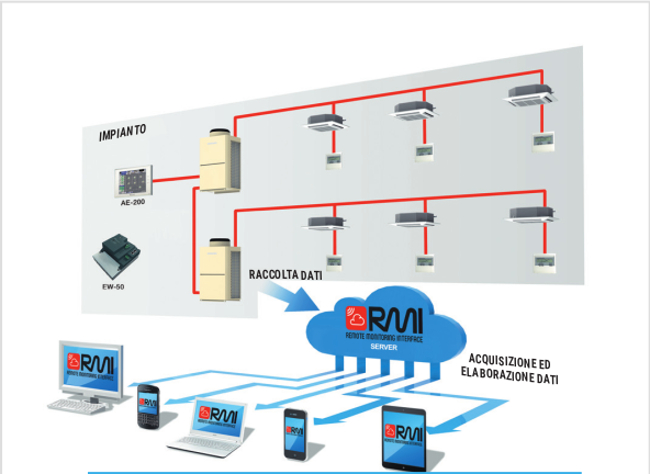 The project
The RMI project is the result of a forward thinking idea by Mitsubishi Electric to offer its customers the capability of managing their installations from portable devices, adding a significant new advantage offered by these systems.
The all-new RMI system is the FIRST system of its kind based on Cloud Computing technology, which lets you interface with your system via a simple yet secure internet connection.
RMI makes it possible to manage Mitsubishi Electric air conditioning solutions, with energy consumption monitoring and maintenance functions, from smartphone and tablet apps for the iOS and Android operating systems, and via a private WEB Client area from a PC.
The RMI system is based on a dedicated infrastructure (RMI Server), which may be described as a container for installation data that is collected and made accessible simply and intuitively, and filtered and represented appropriately for the type of user analysing and using the data.
The project was designed from the start with security in mind, to protect the installation and the client against unauthorised access with a secure VPN connection (Virtual Private Network).
Who can use RMI?
Because of its many different functions, the RMI system is suitable for all types of installation, from centralized residential systems to commercial applications and large scale installations.
The remote management and monitoring functions are intended for end users (e.g. tenants), owners, administrators, energy/building managers, global service providers and installing and maintenance technicians
RMI Service packages
RMI can also be applied to an existing VRF CITY MULTI system, by interfacing through the installation's existing WEB Server centralized controllers.
Contact head office to check compatibility between hardware and available functions See DEMO RMI at: