Compact, lightweight ceiling cassette units with 4-way air outlets provide maximum comfort by evenly distributing airflow throughout the entire room.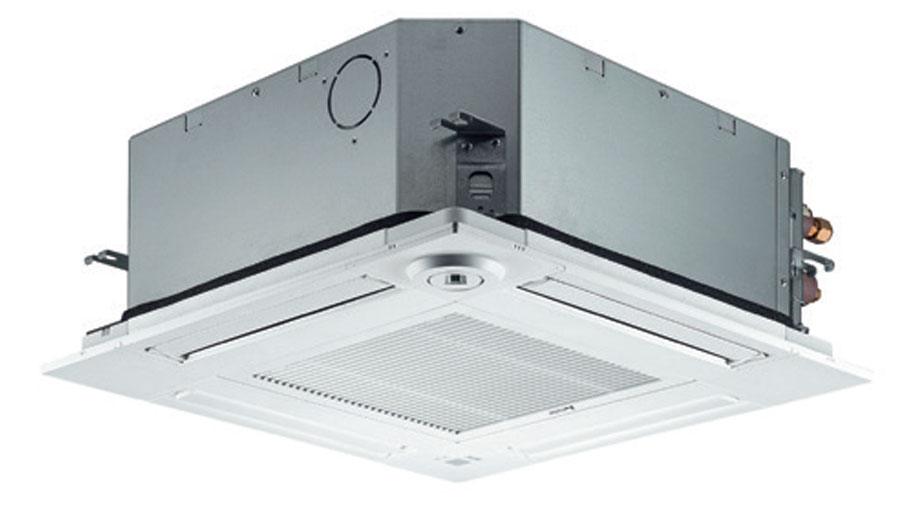 Capacity kW

New lineup
1.5kW has been introduced for multi connection. The diverse selection enables the best solution for both customer and location.

Beautiful design
The straight-line form introduced has resulted in a beautiful square design. Its high affinity ensures the ability to blend in seamlessly with any interior. The indoor unit is an ideal match for office or store use. Of course, design matched 2×2 (600mm*600mm) ceiling construction specifications.

The height above ceiling of 245mm
The height above ceiling of 245mm enables fitting into narrow ceiling space. Installation is simple, even when the ceiling spaces are narrow to make the ceilings higher. Of course, in addition to our products, replacing competitors' product is simplified too.
Energy-saving Performance*
The energy-saving performance achieved A++ in SEER and A+ in SCOP.
Quietness
Low sound level has been realized by introduction of 3D turbo fan. New SLZ can give users quieter and move comfortable room condition.
Horizontal Airflow
The new airflow control completely eliminates that uncomfortable drafty-feeling with the introduction of a horizontal airflow that spreads across the ceiling. The ideal airflow for offices and restaurants.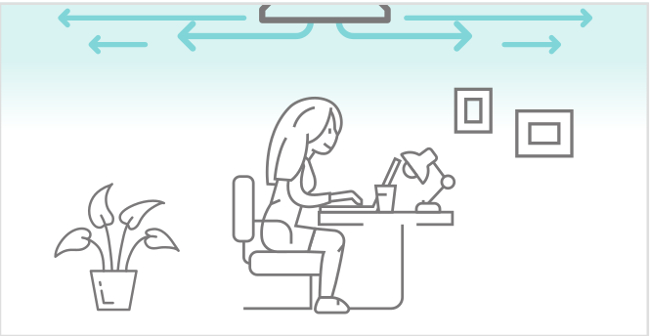 Easy installation
Temporary hanging hook
The structure of the panel has been revised and is now equipped with a temporary hanging hook. This has improved work efficiency during temporary panel installation.
No need to remove screws
Installation is possible without removing the screws for control box simply loosen them. This eliminates the risk of losing screws.
Drain lift
As the result of using a larger drain pan, the maximum drain lifting height has been up to 850mm, greatly enhancing construction flexibility compared to the existing model.
3D i-See
Detects number of people
Room occupancy energy-saving mode
The 3D i-see Sensor detects the number of people in the room. It then calculates the occupancy rate based on the maximum number of people in the room up to that point in time in order to save airconditioning power. When the occupancy rate is approximately 30%, air-conditioning power equivalent to 1°C during both cooling and heating operation is saved. The temperature is controlled according to the number of people.
No occupancy energy-saving mode
When 3D i-see Sensor detects that no one is in the room, the system is switched to a pre-set power-saving mode. If the room remains unoccupied for more than 60min, air-conditioning power equivalent to 2°C during both cooling and heating operation is saved. This contributes to preventing waste in terms of heating and cooling.
No occupancy Auto-OFF mode*
When the room remains unoccupied for a pre-set period of time, the air conditioner turns off automatically, thereby providing even greater power savings. The time until operation is stopped can be set in intervals of 10min, ranging from 60 to 180 min.
Detects people's position
Direct/Indirect settings*
Some people do not like the feel of wind, some want to be warm from head to toe. People's likes and dislikes vary. With the 3D i-see Sensor, it is possible to choose to block or not block to the wind for each vane.
Seasonal airflow*
When cooling
Saves energy while keeping a comfortable effective temperature by automatically switching between ventilation and cooling. When a pre-set temperature is reached, the air conditioning unit switches to swing fan operation to maintain the effective temperature. This clever function contributes to keeping a comfortable coolness.
When heating
The air conditioning unit automatically switches between circulator and heating. Wasted heat that accumulates near the ceiling is reused via circulation. When a pre-set temperature is reached the air conditioner switches from heating to circulator and blows air in the horizontal direction. It pushes down the warm air that has gathered near the ceiling to people's height, thereby providing smart heating.
Simultaneous Multi-system*
Multiple indoor units can be installed to match the room layout, ensuring comfort and coverage of the entire room. Connection of multiple
cassettes to P Series power inverter outdoor units shown below is possible